A Chronological Timeline and Conclusion of the T-ara Scandal, Dispatch's interview with T-ara's staff
On February 9th, a former staff spoke out on Hwayoung playing victim and revealed shocking messages from Hyoyoung to Areum. Diadem chose not to report the story as we associate with Hwayoung no longer. However, for everyone's reading and to finally conclude this 5 year long scandal, we wish to present Dispatch's true and detailed chronological report of the scandal.
---
Hwayoung left the group on July 30th 2012. On this day, Core Contents Media (now MBK Entertainment) announced that Hwayoung's contract had been cancelled unconditionally. Hwayoung said, "fact without truth" on her personal SNS. Which is the truth? What is real? What truth was omitted and what is the reality that exists?
Let's start with the reality:
Hwayoung appeared at the airport assisted by managers. (24th)
Performs only one song (Day By Day) at Budokan. (25th & 26th)
Hyomin posted on her Twitter, "difference in determination." (25th)
Hwayoung refuses to go up on Music Bank's stage. (27th)
Official announcement of Hwayoung leave. (30th)
1 to 5 are undebatable facts, but there are some realities omitted from the situation's background. Hyoyoung did not reveal the reality at that point, and T-ara's explanation fell on deaf ears.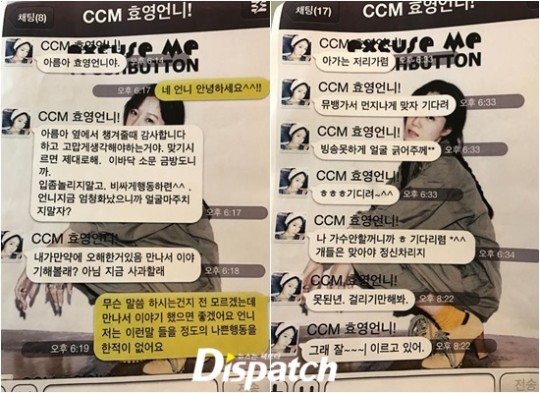 Reality without facts? 5 years have passed since then.
On February 9th, 2017, the incident resurfaced. Why Hwayoung received assistance, why Hyomin posted that tweet, why Hwayoung was left out of music bank… the background of the incident was exposed. Is what the staff said real? Is it the omitted truth from the "fact without truth"? Or is it nothing?
Dispatch met up with 6 staff who worked with T-ara in 2012, stylists and managers, and asked about the incident 5 years ago.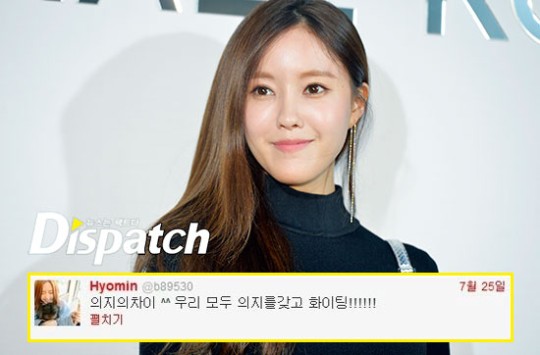 Afternoon of the 25th
The catalyst to the scandal is the tweet Hyomin made on the 25th. "Difference in determination." Dispatch asked the staff for the reasoning. They said, let's take a look from the dressing room of Budokan on the 25th.
"The members were all sensitive. It was their first Budokan concert and Hwayoung missed out on the rehearsal for it. She had taken personal time. Hyomin was referring to that part of the situation."
What was Hwayoung's reaction? Another staff mentioned Hyomin's reaction at the time.
"Hyomin of course talked to Hwayoung. 'Don't be like this.' Hwayoung just raised the volume on her headphones. It was perceived as her not wanting to talk about it. Hyomin gave up on trying to converse and left."
Hyomin tweeted on the 25th at 16:54 "the difference in determination." It was 1 hour before the concert.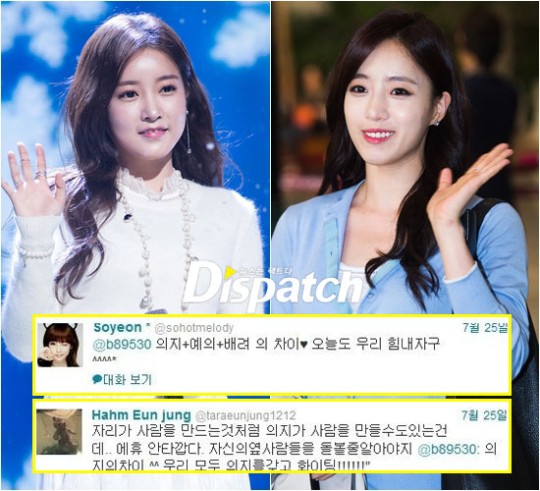 Afternoon of the 24th
The T-ara members sympathized with Hyomin, Eunjung also quoted, "we should look out for the people around us," agreeing with Hyomin. Soyeon likewise tweeted, "difference in Determination + Attitude + Consideration."
Why did they all voice out similarly? It was the topic of the day they arrived in Japan on the 24th of July. The person responsible for transport explained the incident on that day. Hwayoung looked for a hospital even in Japan. She said she needed a leg cast. In the end, 7 members of T-ara headed for Budokan while Hwayoung headed for the hospital.
"Just like what the hospitals in Korea said, the hospital in Japan also said a leg cast was unnecessary. It would heal naturally, but it did need extra attention."
Even so, Hwayoung's next destination wasn't straight back to Budokan. Hwayoung left for the hotel, and the absurdity of especially mentioning this whole thing is the nail art part.
"She said she wouldn't be able to perform at the concert anyway so she may as well rest at the hotel, and since we're resting at the hotel, might as well get some nail art in the mean time. This reached the members' ears."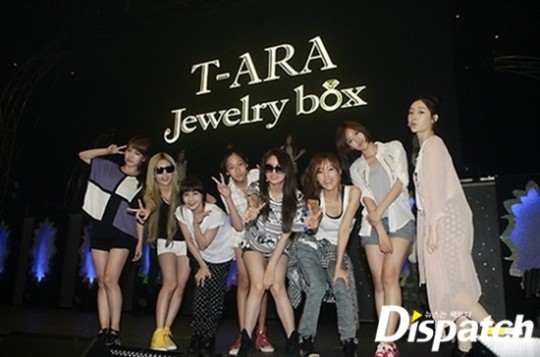 24th, The Beginning
T-ara began practicing the choreography formation for 7 members. It was called the "Without Hwayoung" version at the site. The concert officials told Dispatch, "they changed formations for approximately 22 songs. Not only the members, the sound system, lighting and other staffs had a hard time as well. The rehearsal went on for approximately 8 hours."
T-ara arrived in Seoul from Ulsan at 3 AM on the 24th after the Ulsan Music Core special was over on the night of the 23rd. The members only got roughly 3 hours of sleep before heading out to Japan again.
"Everyone was exhausted and the 8 hours of rehearsal only made it worse. If Hwayoung joined the rehearsal, or even arrived on the scene and explained herself, the time would've significantly shortened. "
On that day, Hwayoung did not come anywhere near the rehearsal site. It was unclear if she did or did not get her nails done too. The manager at the time did not personally ask the nail artist. Excuses like they couldn't get a reservation were made.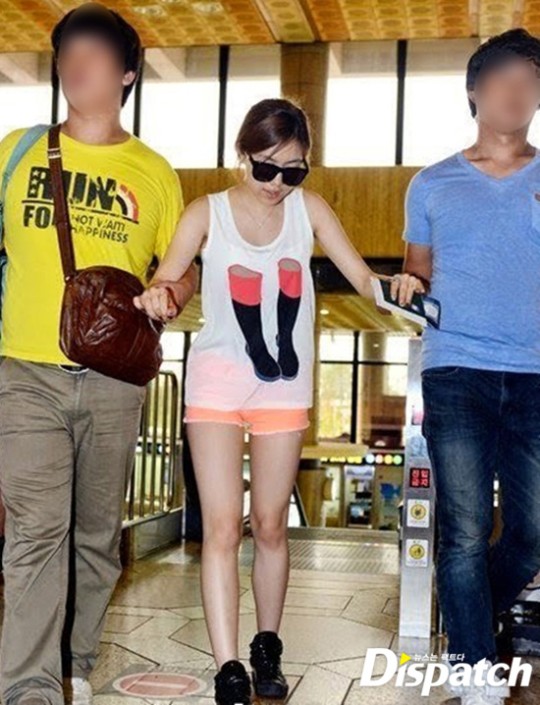 Afternoon of the 26th
There was a difference in ache and the difference in pan was huge. Hwayoung's pain is only existent to herself. She made up her own diagnosis that she needed more rest in order to avoid a more serious injury. Misunderstandings piled up and they turned into distrust. They looked at things differently.
T-ara wanted to personally hear an apology and appreciation of their had work, but Hwayoung only apologized at the press conference in front of reporters. On the other hand, Hwayoung wanted to hear, "it's okay, don't worry about it," as a form of consolation but the members were already disappointed with Hwayoung's attitude. They couldn't understand the logic behind heading straight back to hotel and not attending the rehearsal. T-ara and Hwayoung spent 3 days and 2 nights of schedules together like that and returned to Korea. Afterwards, things spiraled out of hand. It was at the Music Bark dressing room on the 27th.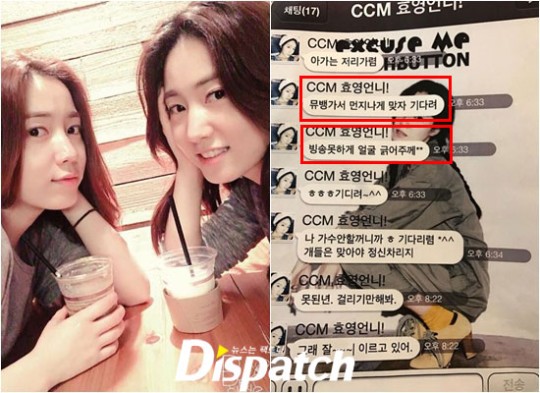 Afternoon of the 27th
This is the part that was never disclosed previously. It was not an information even the staff who posted on the online communities knew. The reconciling part. Eventually the timing ruined everything. The following is the testimony of a staff member who has been close to T-ara and in his private life
"Hyomin tried to start a conversation. She sincerely wanted to address the problem. Hwayoung saw that sincerity too. She said, 'I got it," she walked alone afterwards and practiced by herself. Her expression was different."
According to this staff, the situation was thought to be resolved with that. Then Hwayoung's unnie, Hyoyoung, sent out the text messages exactly 1 hour before Music Bank went live. Dispatch also got in touch with another staff in the dressing room at the tine. She witnessed Areum's expression turn serious, the members gathering together and Hwayoung's perplexed expression.
"Areum's face stiffened. It was a scary expression. She of course asked for help from the unnies. Hyomin immediately asked Hwayoung to resolve the situation. Hwayoung left the dressing room and was on her phone crying."
The staff also added her own guess.
"Hwayoung may not have been comfortable in Japan by herself. She may had complained to her sister. But Hyoyoung didn't know at the time, that they had reconciled and had sent out those text messages looking out for her younger sister. This totally split up the members."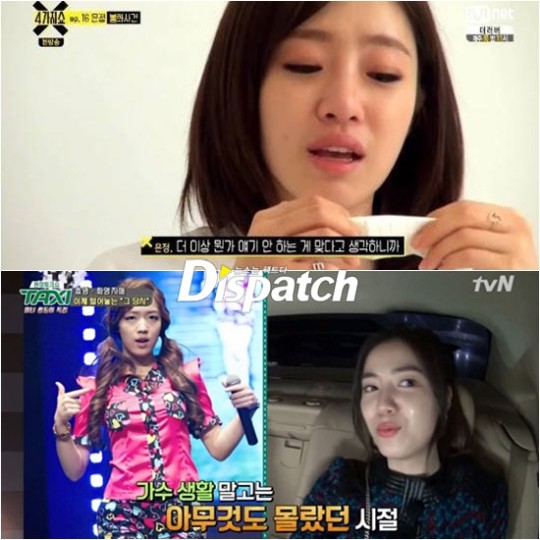 27th, After Dinner
Water had been spilt. There was nothing else to be done. Then the assumptions started pouring in. Witnesses of "Hwayoung running out crying" will cry out it's bullying. Afterwards, rumor like "Hwayoung was force-fed rice cake," "Hyomin stabbed Hwayoung's eyes," "Borarn broke Hwayoung's umbrela," "Jiyeon did not high five Hwayoung," started pouring in. T-ara did explain, but they had already become suspects of bullying. They believed nothing. Hwayoung neither confirmed nor denied the case. Instead, Hahm Eunjung tried to stop the drama by coming out clean for the fist time.
"It's true there was a clash of opinions between the members,  but using this to further exacerbate the bullying controversy really hurt me. Through distortion of facts. I've been hurt a lot and saddened by it."
T-ara and Hwayoung walked their own separate paths. Just like that 5 yeas had passed and Hwayoung appeared on a talk show. She called the incident "something that could've happened." If you have to determine who's at fault, there won't be an end to it.
Hyomin tweeted about Hwayoung's attitude
Hyomin's tweet offended Hwayoung
Hyoyoung's threat after Hwayoung is offended
Hwayoung booted after Hyoyoung's threat…
If any one of these occurrence was omitted, it wouldn't be as dramatic as today. To summarize, it's not about whether or not it would have happened.
The start was trivial, emotion played a part, misunderstandings happened, and then T-ara were treated like monsters. Hwayoung become an icon of 'Pico.'
***
Source: Disptach via Naver
Translation: Stew
Editor: craZy
About Author