Hyomin shares her interests, feelings as a member of T-ara, future plans and more in an interview with The Star
Q. How was your photoshoot with model Jeon Jungyon for The Star's November issue?
We began a little late, but I didn't tired and enjoyed myself. Next time I want to do one with the T-ara members.
Q. Fashionista Hyomin. Today you're wearing clothes from Monkey Flower and Ensen, the street look really suits you. Do you have any tips on the trends and styles for the Autumn-Winter season of 2017?
I think that over-sized coats and outwear are in trend now. While I wear tight clothes on stage, normally I wear over-sized ones. I'm glad they're in trend now (laughs).
Q. What do you think is the most important point when dressing yourself?
I think the harmony of colors is the most important. I like to focus on the colors.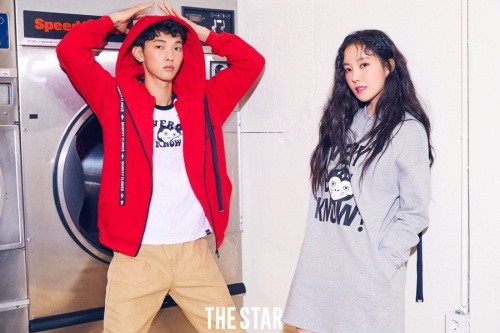 Q. What are your interest these days?
Many things like driving, cooking, photography, interior design. I recently moved so I'm immersed in interior design. I've been resting and cooking lately, I've been going to cooking classes to improve.
Q. What do you do in your free time and I'm curious about your tastes?
Nothing special. I like to eat delicious food and drink with loved ones and watch movies at home, I also like to clean. It's not much different from other people.
Q. This summer, T-ara's "What's My Name?" won 1st place on a music program after 5 years. The feeling must've been different than before.
I very thankful. In the past, we won 1st place so many times, we didn't realize how precious it was. First place in 5 years. I took the love I received for granted, and I have reflected on that. I had a lot of thoughts on that day. Of course, we were truly happy and will never forget that day!
Q. Your first solo album showed a never before seen image, the second one showed a more honest side of you. What do you want to do for your next solo album?
I want to show an image of a confident woman. To be honest, I think I lost a lot my self-confidence on stage.
Q. Recently, there are a lot of girl group juniors. Are there any junior singers you've been paying attention to?
Black Pink and BTS! Their songs are really good and when I watch them on stage, I'm so surprised at how well the perform.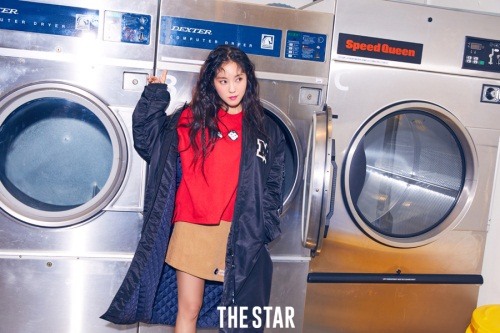 Q. There are many fellow girl groups that have disbanded. How do you feel about this?
I feel the same as the fans. It's very unfortunate and I'm sad about it. As my colleagues and friends, I want to always cheer for them.
Q. Working in the entertainment industry for a while has given you a lot of worries. What is the driving force that helped you overcome the hard times?
The fans. It may sound like a typical answer, but they really are. Being an artist is a job that needs love to have strength, and the fans give us that love. In fact, the times when it was hard for us, it was even harder for our fans. But they always stood by us and supported us. Thanks to them, we never tire and try to gain strength.
Q. To Hyomin, the members of T-ara seem to mean more than anything else.
I am an only child, but they're like my own sisters. We know each other so well.
Q. I'm curious to know T-ara's plans for their next album.
There are no plans for a new album yet. I think we'll spend the rest of the year performing at our oversea concerts.
Q. Finally, what do you want to do the year ends?
I would like to have a small concert or fan meeting in Korea. I want to see our fans.
***
Source: The Star November Issue
About Author